Being Seen: A Conversation with the World's Leading Suicide Prevention Expert
If you are in a hard season, I want you to stop what you're doing right now and listen to this podcast episode I did with Mark Goulston. He is an angel of light for those who feel like they can't be seen, heard, understood or loved.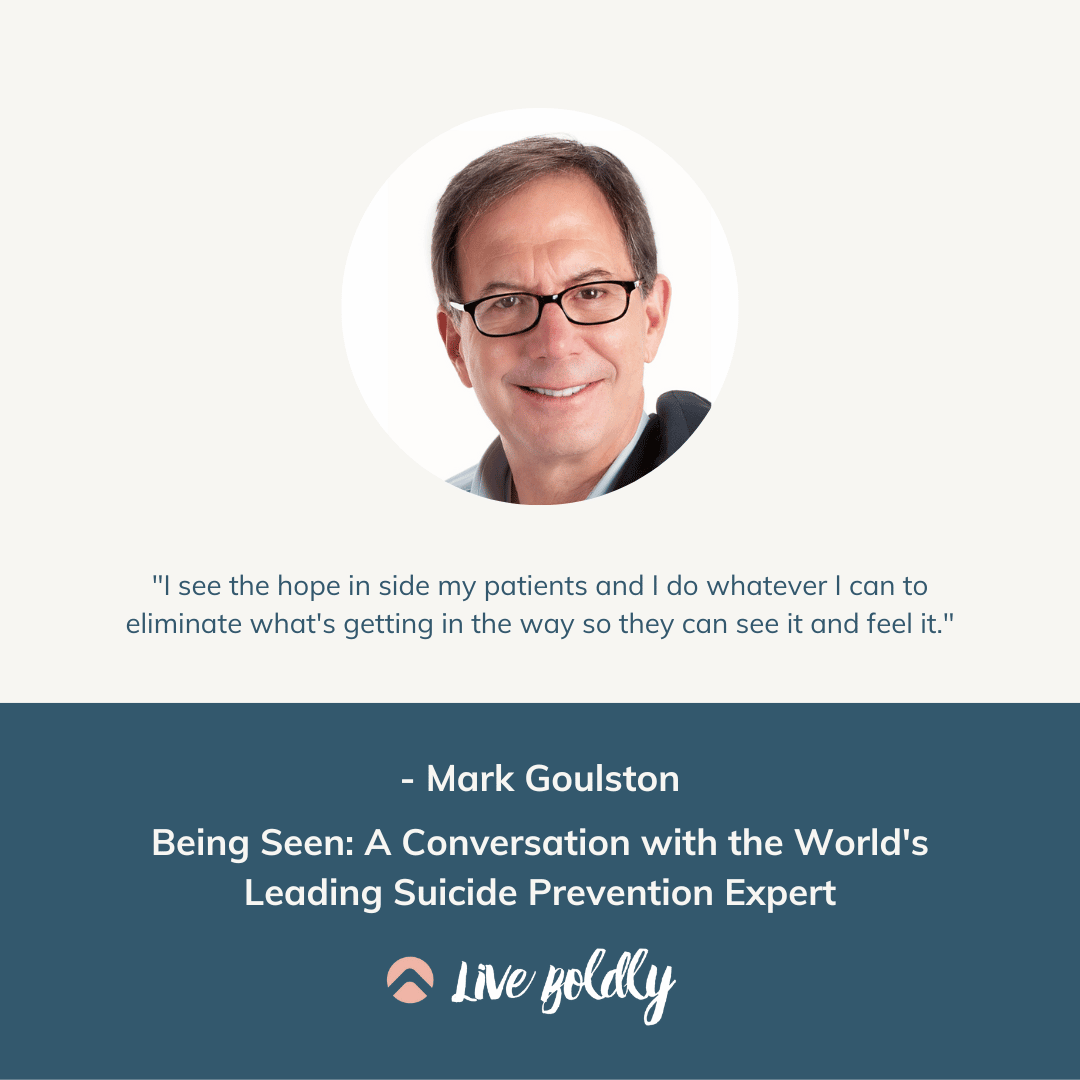 Being Seen: A Conversation with the World's Leading Suicide Prevention Expert
Dr. Mark Goulston is a retired psychiatrist and former UCLA professor of psychiatry and FBI who had a subspecialty focus on suicide prevention, and during his 40+ year practice, none of his patients died from suicide. He is the developer of Surgical Empathy, an approach that reaches people in the core of their pain and helps break their attachments to destructive mindsets and behaviors.
He is the author or co-author of nine books translated into 42 languages, with his book, "Just Listen," becoming the top book on listening in the world, and which was recently named as the #4 Best Communication Skills Book of All Time by Most Recommended Books.
He was recently honored with the "Shine the Light Media Award" by the Los Angeles County Medical Association for bringing attention to teen mental health and suicide. He is an Executive Producer of the documentary, What I Wish My Parents Knew, and co-creator and moderator of the documentary, Stay Alive: An Intimate Conversation about Suicide Prevention.
He is also a former FBI and police hostage negotiation trainer, and host of the My Wakeup Call podcast.
Intro
Hello, everyone! Mark Goulston is on today's show. Today, we talk about surgical empathy, the moment Mark's life changed, why he doesn't accept being called an angel, learning surgical empathy, and the impact of our own healing on others.
Let's dive in!
In this Episode you'll learn:
[05:55] What got Mark into this work?
[19:14] Surgical empathy.
[20:52] When Mark's life was saved.
[28:06] Being an angel for so many.
[35:02] The first time I was called an Angel.
[38:04] Can this be taught?
[51:09] Kevin's story.
[55:03] How our healing impacts others.
Quotes:
"We're all born complete and then the world and events conspire to try to convince us we're not." [38:58]
"It can be taught but you have to experience it." [43:30]
"When people give you a sincere compliment, don't be high maintenance, just receive." [60:48]
Links Mentioned: 
Connect with Mark:
Website:                      markgoulston.com.
Message Sara!
Website:                      saraschultingkranz.com